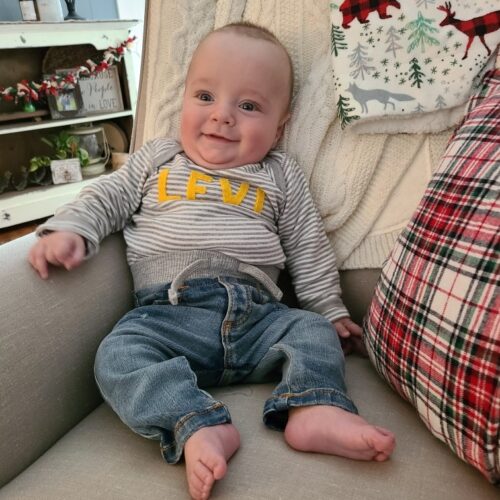 Being born and raised in Kamloops, Chloe Scott knows the caring nature of our community all too well. Shortly after a backyard wedding in 2020, Chloe and her husband Tom were ready to welcome a bundle of joy to their young family. In her second trimester, Chloe contracted COVID-19 and was advised by the Thompson Region Family Obstetrics Group (TRFO) at Royal Inland Hospital (RIH) that she would need an additional ultrasound. This additional ultrasound showed that her baby was growing smaller than usual, which was unexpected as he had been in the 60th percentile up to that point.
The next day, Chloe went back to RIH for further testing with obstetrician, Dr. Erin Adams, who noticed the baby's heart rate suddenly drop. Chloe was asked to stay for close monitoring and during that time the baby's heart rate kept dropping. Dr. Adams informed Chloe that she would have to deliver her baby at 27 weeks and made the decision to send Chloe and her husband Tom down to Vancouver to go to BC Women's Hospital for the foreseeable future. As Tom was preparing to leave that day, packing up the necessary supplies and alerting close family, Chloe called and told him that since the baby's heart rate kept dropping, Dr. Adams had told her it was not safe to fly. Instead, Chloe would be undergoing a C-section within the hour.
A sigh of relief fell over the operating room as Levi Scott made his entrance into the world with an incredible cry that doctors were not expecting at just 27 weeks. Weighing only 1 pound 15 ounces when he was born, Levi was immediately transferred over to the "old" RIH Neonatal Intensive Care Unit (NICU) while Chloe was transferred to recovery after only seeing him momentarily. When Levi arrived to the NICU, Kristen Butler, the charge nurse on shift, immediately jumped into action documenting everything for Chloe. Seeing how little time Chloe had with Levi, Kristen borrowed her phone and captured images of how small Levi was with his little hands and feet – photos that Chloe and Tom cherish to this day.
Having a child in the Neonatal Intensive Care Unit (NICU) is an emotional time. Your donations are the key to offering families comfort in knowing that their child is being supported by the very best equipment and care team possible. Almost all of the specialized equipment in the Rita C. Mercier NICU has come through the generosity of our donors.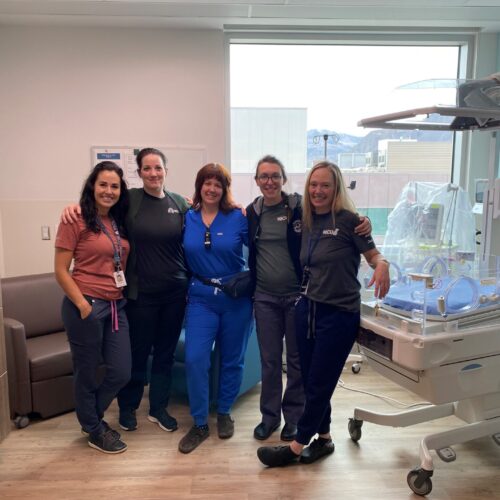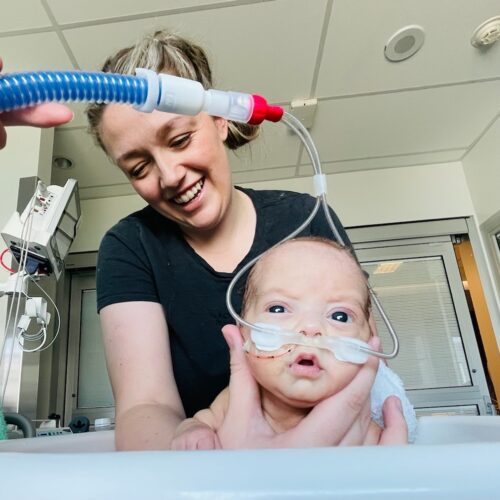 While recovering, Chloe and Tom were informed that little Levi would be transported to BC Children's Hospital in Vancouver to receive additional supportive care. Once in Vancouver, Chloe spent a total of 10 weeks with Levi at BC Children's Hospital, while staying at the Ronald McDonald House. Levi's extended stay in the hospital was due to the development of chronic lung disease which is an unfortunate consequence of being taken from the womb so suddenly and premature.
After finally returning home to Kamloops, Chloe and Levi were one of the first patients to be transferred to the new Rita C. Mercier NICU, in the Phil and Jennie Gaglardi Tower, where they spent another 7 weeks. While at Royal Inland Hospital, Chloe's nurses who had taken priceless pictures of Levi when he was first born, came back in strides to celebrate every one of Levi's milestones. On Levi's 100th day, they made an "I made it to 100 days" banner and displayed it in his room. When Chloe had to leave Levi overnight, they never missed a beat, texting Chloe constant updates which made the unbearable task of leaving him a little more manageable.
Knowing that Levi was heavily reliant on oxygen, the neonatal intensive care team comprised of Ashley Watson, Leah Leslie, Kristen Butler, and many more, devised a plan for Chloe to bring the oxygen home so that Levi could be discharged. This was an incredibly freeing moment for Chloe and Tom, who wouldn't have to spend another month in the hospital. Finally, Chloe and Tom brought their little bundle of joy home and have since cherished every moment with him.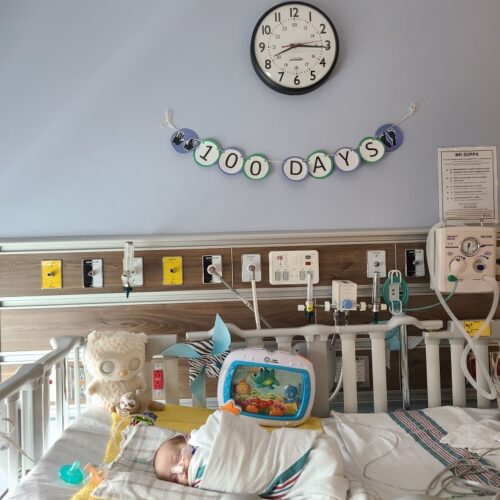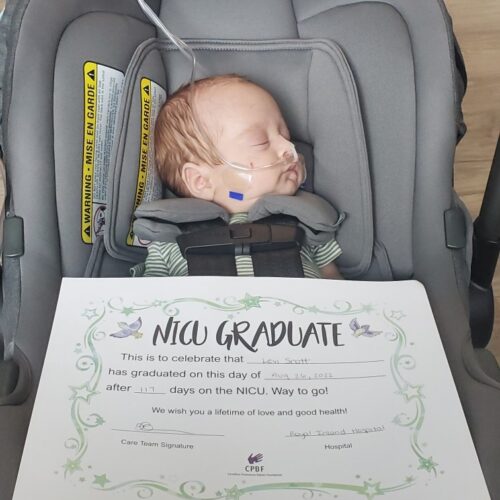 Chloe explains, "We often hear that it takes a community to raise a child but for Levi it really took a province. The collaborative efforts put forth by this incredible network of people are the reason why Levi is here with us today." 
"Our NICU stay was a long one, 117 days to be exact. Being a parent to a child in the NICU is extremely hard. Leaving the hospital every day without your baby is an excruciating experience, knowing your new baby is in the best hands possible and coming to terms with the fact that those hands are not yours yet. We entrusted the amazing team of pediatricians, respiratory therapists, dietitians and of course NICU nurses with our son's life and they did not disappoint us. We are thankful each and every day for the love and care they all put into their jobs. Levi's NICU journey started and ended at Royal Inland Hospital. There are no words to describe the gratitude we feel but we hope telling our story is just the start." – Chloe Scott, Grateful Mother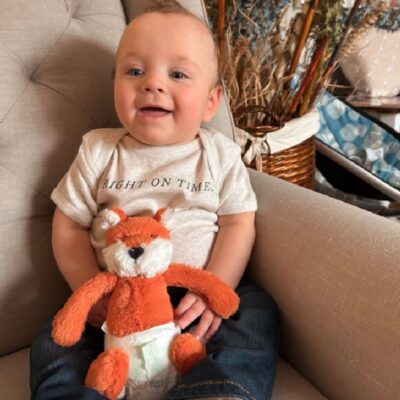 Since opening last July, the Rita C. Mercier NICU has cared for hundreds babies and their families. For many, the Rita C. Mercier NICU is the place where life begins. Your support gives every newborn child in need a fighting chance at life. Please consider making a meaningful gift to the RIH Foundation today.
To read Chloe's heartfelt thank you letter to the valued supporters of the RIH Foundation click here.