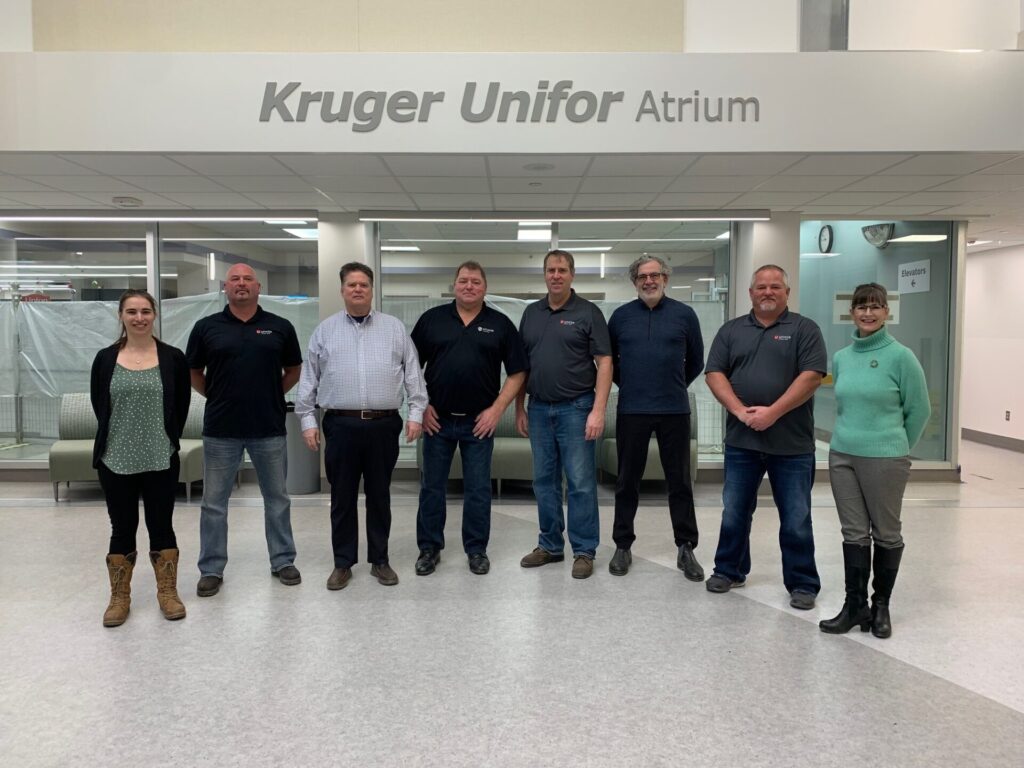 Marking the single largest donation carried out in partnership between employees, employer, and union representation, Kruger and Unifor have come together to make a one-of-a-kind gift of $1 million to support the open-concept atrium in the heart of the Phil and Jennie Gaglardi Tower at Royal Inland Hospital (RIH). The Kruger Unifor Atrium is the central focus point for visitors after they enter the new main entrance to RIH and make their way past registration. Being built on the location of an outdoor courtyard, this area can now accommodate guests year-round. This bright and inviting space, filled with natural light and scenic imagery of local wonders, is an inclusive place for staff, patients, and families to gather. It is used daily as a place to relax and unwind, and serves as the perfect location to host special events and announcements.
Symbolic of the way Kruger and Unifor have come together to lead the way in partnership, generosity, and social responsibility, the Kruger Unifor Atrium is a place for people of all backgrounds to come together to unite in compassion and care. The word Kamloops comes from the Secwépemc word Tk'emlúps, meaning "where the rivers meet" and refers to the convergence of the North and South Thompson rivers. As two organizations deeply rooted in the well-being of Kamloops, Kruger and Unifor have created a convergence of their own by embarking on a joint mission to support health equity in the Thompson Cariboo Shuswap region.
The generous contribution from these two philanthropic organizations is one that is being supported at the local level. Unifor's half of the donation is split between the national union and Local 10-B, which is also the case for Kruger, with a portion of the funds coming from the corporate office and the rest from the Kamloops Pulp Mill on Mission Flats Road.
Being a family-owned company since its foundation in 1904, Kruger establishes and maintains meaningful, long-lasting relationships with the people and communities it engages with. Upon acquiring the Kamloops Pulp Mill in June of 2022, Kruger was eager to join the partnership established by the Mill, its employees, and Unifor to make a significant donation to the RIH Foundation. The fact that the Kruger Unifor Atrium will be a place dedicated to patients and staff's well-being, to family reunions, and to community gatherings aligns perfectly with the company's core values.
"The well-being of the community is really important to Kruger. I think that's why an area like this, a place of compassion and care, is such a great match for us. I also wish to praise the exceptional collaboration between Kruger, our mill's employees, and Unifor. From the start, everybody got on board for this great cause, and it allowed us to achieve such an outstanding result." — Darrell Booker, General Manager of the Kamloops Pulp Mill
The idea of a partnership with the Kamloops Pulp Mill to make an important donation to the RIH Foundation was first brought forth by members of Unifor. The idea gained traction within the mill and part of the funds were obtained from individual contributions by workers. The creation of the Kruger Unifor Atrium is a great source of pride for the union since it provides a space for patients and their family, hospital staff, and the community to come together and express compassion and solidarity.
"As a member of Unifor Local 10-B, I am proud that my colleagues and our union joined their efforts to give back to the community where we live and work. Our families, colleagues, and friends go to RIH to obtain healthcare and we are happy that they will now have a beautiful space to unwind and gather with loved ones during what is often a challenging period in their lives. We are grateful to all the mill employees who made donations, and to Kruger, Unifor National, Unifor Local 10-B, and Kamloops Pulp Mill for their generous support." – Wesley Mitchell, Vice President, Unifor Local 10-B
"The RIH Foundation is grateful to Kruger and Unifor for investing in an inclusive place that profoundly enhances the health and well-being of patients and staff at Royal Inland Hospital. It warms my heart to see patients, staff, and visitors connecting in the Kruger Unifor Atrium. Kruger and Unifor have created a legacy that we all can be proud of for years to come. On behalf of RIH staff, patients, families and the people of our region, I would like to thank Kruger and Unifor for their generous donation and for the important role that they play in this community." – Heidi Coleman, RIH Foundation CEO.