There are many reasons to be grateful when welcoming a new member to the family. For the Stannard family, July 22, 2020, was a perfect example.
Arriving in the late afternoon at Royal Inland Hospital (RIH), Tara was in full labour. After parking and proceeding to cross the bridge with her husband, Ryan, she got to the point where she could walk no further. Fortunately, a health care worker was leaving work at the time and their paths met on the bridge. The woman put down her bicycle equipment, timed Tara's contractions, and called for a porter to help Tara upstairs to Labour and Delivery.
"I am just so grateful for the help this woman gave us; it may not have been a big deal for her, but for me it was crucial", Tara explained.
Tara's gratitude continued upstairs as complications with her delivery meant that she required a C-section. Tara and Ryan's beautiful baby girl, Theo, was delivered later that evening. As a result, Tara and Theo spent 5 days at RIH, where the hospital staff took excellent care of them, particularly Dr. Thom Wroz, Dr. Kara Perdue, and the many nurses. They are also grateful to the Emergency Department team, which needed to step-in after some post-op complications.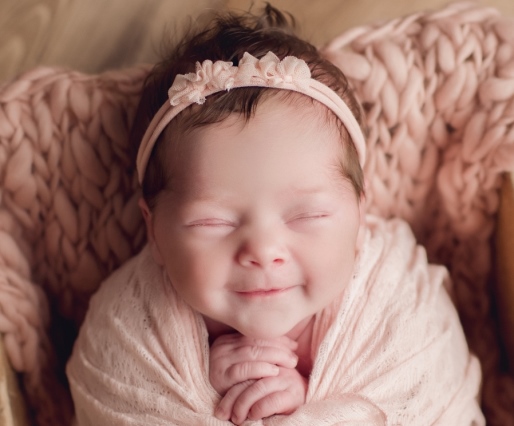 Entering a hospital during a pandemic would be a little nerve-wracking for most, but Tara and Ryan felt completely safe due to the protocols in place. The nurse at the entry checkpoint was friendly and thorough, the hospital was very clean, and the signage was clear, thereby reducing potential wandering in the halls. In addition, Ryan was able to stay with Tara and Theo for the 5 days, which was important to all of them as they started their life as a family.
6 weeks after the delivery, the Stannard family is doing well at home. Tara and Theo have gone for regular follow-up care at the Thompson Region Family Obstetrics Group and Dr. Wroz, and Ryan is back at work. Looking back on their experience, they are very thankful to the staff at RIH.
"I would like to thank everyone who works in maternity, from start to finish for the exceptional care we received. They were all amazing and gave us the best experience. Their kind and caring nature made our difficult situation so much better and we really appreciate their hard work and devotion. Thank you to all of them and for what they do, particularly putting themselves on the front lines!"
(If you are a grateful patient, or would like to share a story of a grateful patient, feel free to contact the Foundation Office at rihf@interiorhealth.ca.)