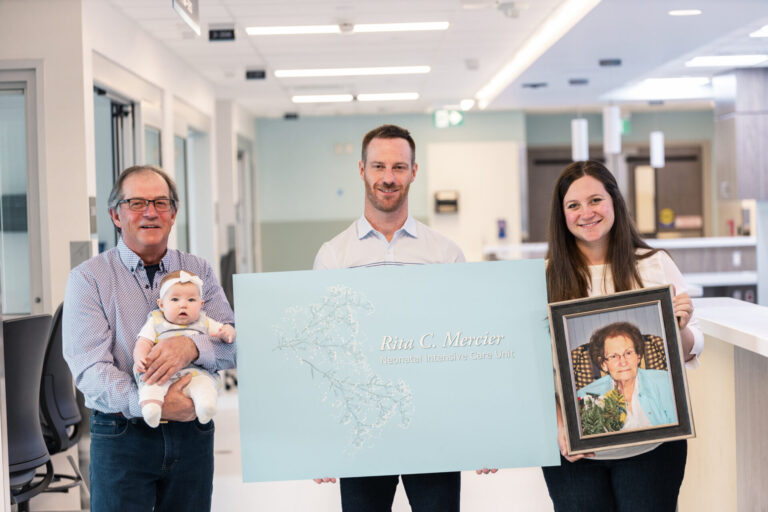 Local businessman, community builder, and generous hospital supporter, Guy Mercier has announced a generous gift to the Royal Inland Hospital Foundation, benefitting the new Neonatal Intensive Care Unit (NICU) at RIH. The beautiful department is in the new Phil and Jennie Gaglardi Tower.
Guy Mercier has been a supporter of the Royal Inland Hospital Foundation for over 20 years. He's a well-known philanthropist in Kamloops who has supported many organizations such as Thompson Rivers University, Kamloops Woman's Shelter, BC Wildlife Park, SPCA, Prostate Cancer, and many local sporting organizations.
This specific gift is close to Guy's heart commemorating his mother, Rita C. Mercier. It is due to her strength, perseverance and tireless dedication to her family and surviving six children that their family remains strong to this day.
Guy's parents suffered the loss of 4 children all before the age of 4 and Guy felt that naming the new NICU after her, was a beautiful way to honour her memory and her strength. Access to the same type of neonatal services was not available in their small town of Mont Saint-Pierre, Quebec, at the time. "Listening to my mother tell the stories of the loss of their new born daughter and three sons provided a perspective of what many parents go through with a sick baby or toddler. This was one way for my family to impact change," says Guy.
The new NICU is a beautiful environment that is more attuned to the special emotional and psychosocial needs of families and premature babies. The expanded and enhanced unit includes 8 single bassinette rooms and 4 stabilization bays. The space also gives parents the opportunity to be bedside with the option of staying overnight with their baby in the private rooms. The old space did not allow for privacy nor the option to stay with your baby. On the same floor, is the labour and delivery department, keeping mothers receiving postnatal care close to their babies at all times.
Guy founded Acres Enterprises Ltd. in 1980 with a passion for building communities through industrial, civil, and general contracting/building services. Throughout his 35 plus years in the construction industry, Guy focused on projects laying the groundwork for natural and thriving communities, encouraged economic development, and made a significant impact on the betterment of his city and other communities. In 2012, Guy made the decision to sell the company which he built and focus on other passions; real estate development and philanthropy. These new ventures would allow Guy to plan and build prosperous neighbourhoods and communities while also donating to causes close to his heart.
Mr. Mercier has expressed gratitude for access to the health care available in Kamloops and is pleased to support its expansion now, and in the future. He currently resides in Kamloops and looks forward to spending time with his children and granddaughter. Guy also hopes to inspire his children in the ways of giving back through this donation.
Heidi Coleman, CEO-RIH Foundation, commented on the donation, "I met Guy when I first started at the Foundation. His acute attention to the healthcare needs in Kamloops was apparent immediately. Since then, we have worked with him in a multitude of ways. Guy supported the development of the Cancer Clinic at RIH. He also helped renovate the emergency department's trauma room by purchasing two state-of-the-art overhead articulating booms which allowed the medical staff to have easier access to the patient and the lifesaving equipment. Guy even offered his commercial space to us for use at our 2018 Royal Affair event. This newest gift has changed the way families and their newborns receive care in our Hospital. We are very grateful for his ongoing support."
"On behalf of the entire Neonatal Intensive Care Unit, we are truly grateful to be the recipient of this wonderful gift, as it allows us to provide optimal family centered care to our patients and their loved ones. This generous contribution will help to fit each private patient room in the NICU with a refrigerator and sleeper chair so that out of town parents can enjoy the comforts of home while staying with their newborn babies. To create a neonatal environment conducive to natural healing and development, this meaningful donation will also help to purchase Giraffe Beds, essential for the comfort and protection of RIH's youngest patients." – Dr. Denise Chapple, Chief of Pediatrics
Thank you to Fresh Inc. for preparing this article.